Camp chairs are fantastic for all sorts of fun activities, from ball games to concerts or days at the beach. They're also a staple for… camping! Every camper needs a good pair of boots, a durable backpack, and a comfy chair. Whether you're just getting started with your camping kit or you need to replace an old, ragged chair or two, Sofa Spring has all of your camp and beach chair needs covered. Sit back and relax in style around the campfire with your new chair.
Here at Sofa Spring, all of our camp chairs must be subjected to our intense scrutiny. We look for several factors, including:
Quality of materials – our camp chairs must be made of the best quality of materials.
Durability – the chair must be durable and stand up to the test of time.
Value – we look for a great value for the price.
Seller's reputation – we choose only the most reputable sellers.
Colors – the color choice is up to you based on your own personal style, however, darker colors hide dirt and blemishes easier than lighter colors.
Looking for something different? Take a look at our top 3 inflatable chairs. Compact and waterproof!
Only after our camp chairs pass these stringent tests are they able to be featured on our page. Here are our top 5 selections:
---
1) Portable Camping Quad Chair
Are you an outdoor type of person enjoying cold drinks and BBQ at a campsite or having a picnic outside? Then this Portable Camping Quad Chair is your partner. It has a built-in cooler in the armrest that can hold up to four cans. The fully-cushioned back and seat will add relaxation as you sip in your favorite drinks. It can be folded for ease of transport and storage.
3 new from $44.99
Free shipping
as of October 1, 2023 6:16 am
Features
Inbuilt 4-can cooler pouch ensures your cold drinks are within easy reach
Fully cushioned seat and back provide optimal support and comfort
Features a mesh cup holder and side pocket for storing personal items swiftly
Collapsible and foldable design allows for convenient storage and transport
Generous 24-inch seating and comfortable 18.1-inch sitting height
---
2) ONIVA Folding Camp Chair
If you are enjoying a seat under the sun or loves to stay up at night and gaze at the moon and stars, the ONIVA Folding Camp Chair is your relaxation partner. It is a recliner chair that features a drink holder on its armrest for a superior outdoor experience. This portable chair is simple and easy to set up. It is perfect for outdoor activities on the beach, park, picnics, or simple backyard BBQs.
2 new from $49.95
Free shipping
as of October 1, 2023 6:16 am
Features
COMFY CAMPING CHAIR - The PTZ Camp Chair by Oniva, a Picnic Time brand, is a portable folding chair ideal for camping, BBQs, picnics and more
BEACH CHAIR BEAUTY - With extra long armrests, a mesh cup holder, and a natural recline this camping chair is seriously comfy. Made of a durable 600D polyester on a steel frame, this lawn chair's built to last
ON THE MOVE - Our lightweight folding sports chair comes with its own carrying bag with shoulder strap for easy transport to the beach, on hikes, or just out to the lawn - and for simple storage when not in use
BIG & DURABLE - This outdoor chair measures 31.25" x 22" x 3.5" when open and has an impressive weight capacity of 300 lbs
BUILT TO LAST Lifetime Guarantee - Product quality backed by the Picnic Time Family of Brands, a family-owned business in California
---
3) Sunyear Camping Backpack Chairs
Sunyear Camping Backpack Chairs is a lightweight camping chair that has an ergonomically designed seat for superior comfort. This folding chair is larger and comfier compared to similar products in the market. Its soft mesh pieces offer more relaxation. It is simple to set up and dismantle for ease of transport and storage.
check latest price
1 used from $28.89
Free shipping
as of October 1, 2023 6:16 am
Features
Ultralight and compact- Sunyear's camping chair weights just 2.29 lbs. (even with larger upgraded feet) and packs down to 13.8" (L) x 4.3" (W) x 5.1" (H) in the included storage bag. You can carry it in your backpack or leave it in your RV or car. It makes a great gift for everyone.
Unique deep design sea- Our folding chairs is much larger and more comfortable than similar items on the market. This lightweight camping chairs features an ergonomic seat design for optimal comfort. The soft mesh panels give you plenty of room to relax.
Easy to set up and collapse- The aluminum shock-cord pole structure makes it quick and intuitive to set up. A strap holds the frame together so that it can be collapsed easily for storage and transport. NOTE: The seat is snug. It is designed securely so it won't slip out when you pick up and move the camp chair. When assembling, simply apply additional pressure when putting the last leg into the pocket. Don't worry about breaking the chair as it is built strong!
Heavy-duty-Aircraft-grade 7075 aviation aluminum alloy is one of the strongest aluminum alloys. This outdoor camping chairs is ultralight and heavy-duty. Upgraded wide rubber covers on each leg provide a firm base. Our folding chair has a load capacity of up to 250 lbs.
Ideal for All Types of Outdoor Events. Best choice for Campers, Hikers, Backpackers, Tailgaters, Concertgoers, Adventurers, and anyone looking for comfort without the usual bulk. We provide 24-hour friendly customer service. Our compact foldable camping chairs are 100% Lifetime Guarantee. We are always here to assist you.
---
4) TravelChair Slacker Chair
This lightweight camping chair from TravelChair is your perfect tripod stool partner for your every camping activity if you are looking for comfort, durability, and portability. This is perfect if you are spending time at the beach, playing golf, go fishing, and hunting. It is crafted for ease of carrying and storage. Its frame is made from heavy-duty tubing so you can be assured of its durability.
3 new from $32.68
9 used from $25.04
Free shipping
as of October 1, 2023 6:16 am
Features
ADVENTURE: Discovering the outdoors is full of fun and adventure, but sometimes you just want to take a seat. Our Slacker stool is perfect for those hiking, backpacking, camping, fishing, or hunting breaks. Enjoy nature's scenery while relaxing.
COMFORTABLE: Take a load off and relax with our folding stool. This tripod seat has been designed to be practical, durable, and comfortable. With both nailhead and Ripstop polyester fabric and space to relax, this is one comfy chair.
TRAVEL CHAIR: Life is constantly on the move, and our portable seat can move with you. This lightweight stool weighs only 1.9 lbs. and measures 2.75" x 2.75" x 24" when closed. The carry strap and hook-and-loop closure make this chair a breeze to move.
DURABLE & STABLE: This compact folding chair is small and strong. It can easily hold up to 275 lbs. due to its construction. The grommets, feet, rivets, Ripstop fabric, and steel frame of this portable stool are all sturdy and durable.
BUILT FOR GOOD: TravelChair is a family-owned US brand. We began in 1984 and have continued to grow in the travel chair market over the years. We believe in delivering products that are easy to use and durable. Each chair is built for good.
---
5) ALPHA CAMP Chair
This oversized chair for camping offers a large seat with a padded armrest and oxford fabric for optimal support. It has a coating that prevents fading and corrosion. It is made with a sturdy steel frame that can hold up to 450 pounds. It features a perfect height of armrest and a cup holder for ease of access. It is easy to collapse for easy transport and storage when not in use.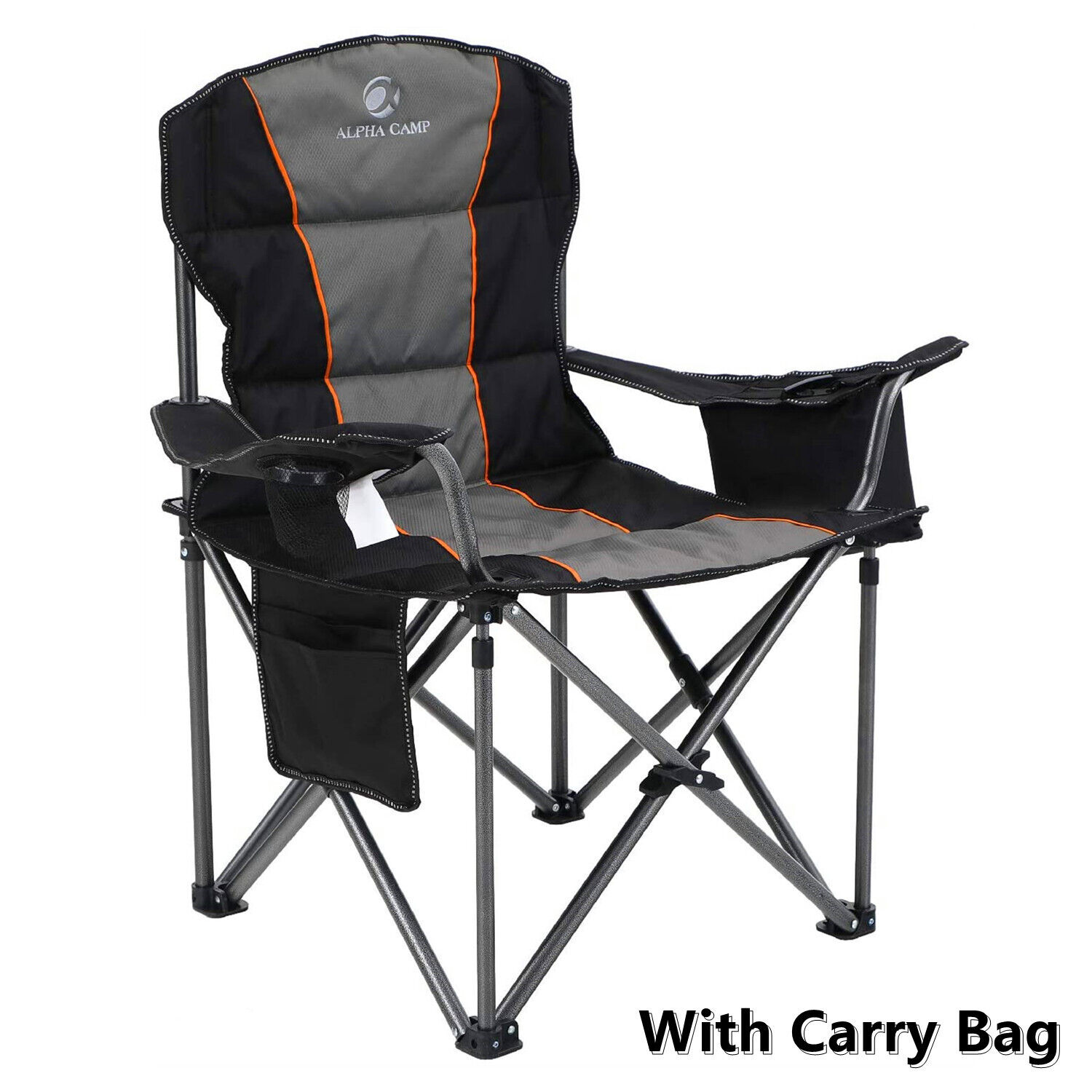 as of October 1, 2023 11:19 am
Large Size 】Oversized Camping Folding Chair Size is 25.20" L x 39.37" W x 39.37"H, Weight is 13.2lbs, Large seat area with 600x 300D padded oxford fabric and padded armrest ensure comfort of this chair.
---
Want some more inspiration for outdoor seating? Have a look at these pages too!