How often do we sink down after a tiring day at work or a trying time with the kids and fall asleep on the sofa with the TV on? Whilst that might well be comfortable, think how much more relaxing it would be on a sleeper sofa – one that can morph into a soft, don't-have-to-move-all-evening bed. And when guests show up unexpectedly, or you have too many plus ones after a party where alcohol has been consumed, a sleeper sofa can be a lifesaver.
Sleeper sofas can be transformed in an instant; some even have the option of storing the bed already made up, meaning all you have to do is straighten the covers for a restful night's sleep. They possess other beneficial elements, too, one being their cost efficiency.
As well made and comfortable as a regular sofa, but with hidden depths, our sleeper sofas have survived a number of arduous tests, designed to ensure that only the highest quality models are featured as recommended sofas. Our tests involve examining:
Comfort – in both forms should be paramount, with neither losing out to each other
Quality and ease of opening – the mechanism must work smoothly and efficiently, with each individual component displaying an incomparable quality
Value for money – price vs quality should always balance out evenly
Fire retardancy – each sleeper sofa should comply with the latest fire safety regulations
Bed linen storage – can the bed remain made up once returned to the sofa form
Only the ones that come through unscathed are featured here, so why not have a browse through our winning sleeper sofas? Your perfect model is waiting for you!
---
1) Novogratz Tallulah Memory Foam Futon, Blue Velvet
Looking for a classic vintage piece for your home? The Novogratz Tallulah Memory Foam Futon comes in 6 lovely colors – Blue Velvet, Gray Velvet, Green Velvet, Light Green Velvet, Mustard Yellow Velvet, and Pink Velvet. These striking colors are classy and elegant. The best thing about this apart from its aesthetic is its durability and function. It can be reclined to either lounging or sleeping position, great for overnight guests. The velvet upholstery is tufted in a modern style while keeping it classic and chic. The high-density memory foam is a very comfortable asset of this sofa that makes it a great purchase.
6 new from $307.99
Free shipping
as of October 1, 2023 4:17 am
Features
Futon dimensions: 83"L x 33.5"W x 32.5"H. Sleeping dimensions: 73"L x 44"W x 17.5"H. Weight limit: 600 lb.
Made on a sturdy wood frame with filling made of high-density foam and memory foam for ultimate comfort
Multi-functional design. The back can be reclined to lounging and sleeping position
Available in blue, grey, green and pink velvet. Ships in one box and it is easy to assemble
Classic vintage design in velvet upholstery with button-tufted arms and back and wooden legs
---
2) Convertible Sofa Sleeper in Rich Linen
Space-saving does not mean you should hold back on color and style. The Novogratz Palm Springs Convertible Sofa Sleeper in Rich Linen, Sturdy Wooden Legs, and Tufted Design is a mid-century modern piece that will brighten up your living space. There are 3 colors to choose from, Orange, Yellow, and Blue linen. These colors can give a pop of color in a contained space. The sturdy wood frame and tapered wooden legs complete the look and feel of the sofa. The best thing about this is it is multi-functional giving you more space for other stuff in your home.`
check latest price
as of October 1, 2023 4:17 am
Features
Mid-century modern, low profile design. Converts quickly and easily into a lounger and sleeper
Linen upholstery with a Tufted Back
Tapered wood legs
Sturdy wood frame
Multi-functional piece ideal for small living spaces
---
3) Topeakmart Convertible Sleeper Sofa
If you are looking for full functionality plus style then the Convertible Sleeper Sofa Bed Couch Pull out Futon Sofas Daybed Recliner Couches is perfect for you. It is your go-to sofa for all your needs in a small space. It is made with a durable hardwood frame partnered with metal legs that makes it look more modern and sturdy. The backrest is adjustable and reclinable to 3 positions for your comfort. The different degrees you can adjust the backrest make it ergonomic and give you fewer problems with back pain.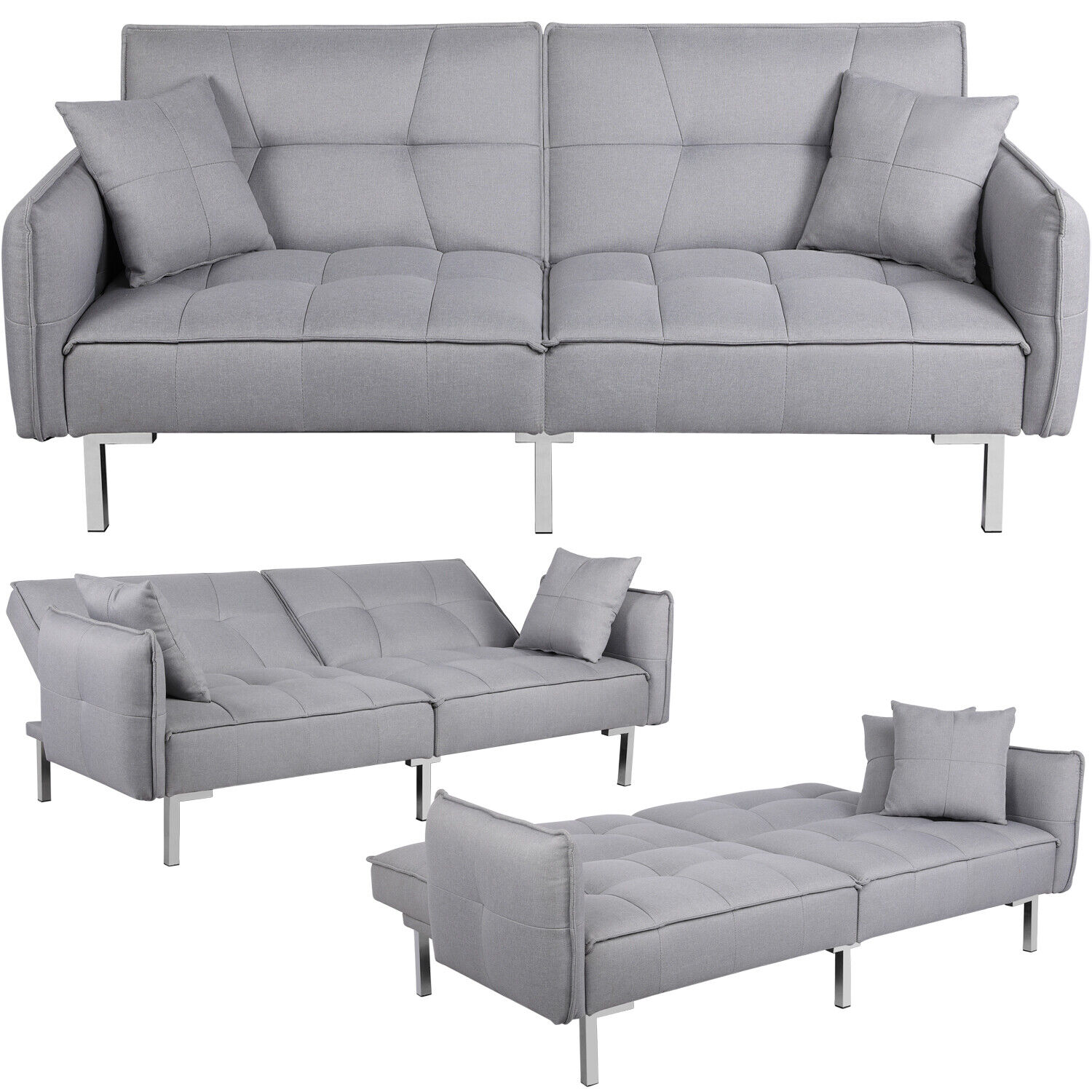 as of September 24, 2023 12:16 pm
An ergonomically adjustable backrest adds to your reclining comfort. Each pillow has a machine washable cover that you can easily remove by a smooth zipper for much cleaning convenience. Note that the whole sofa cover is not detachable.
---
If you liked this page and would like some more sofa inspiration, why not have a look at these articles!