Once only found in gentlemen's clubs and English stately homes, leather sofas are now much more frequently seen in homes across the country. Incredibly robust, hardwearing and spill-proof, a good leather sofa can last for generations and elicits feelings of old-time charm and elegance. Timelessly decadent, gaining a richly burnished patina, from cleaning and use, as the years flow by, a leather sofa is a statement, a much-loved family meeting place, and a welcome home.
The leather sofas featured by us are put through a gamut of arduous tests to ensure, among other things:
Durability – your new leather sofa should last for decades
Workmanship – how the frame is constructed and the leatherwork carried out all add to the longevity
Leather quality – thin leather will wear through with very little use, so the leather should be thick and softly flexible
Ethical production – the leather and wooden frame should be sourced from sustainable supplies
Seller's reputation – the seller must have an unblemished record in order to be considered for inclusion
Only if they pass with flying colors can they be featured in our collection. So you can rest assured that these leather sofas will look as good as new for a long time to come.
Why not have a browse?
---
1) Rivet Andrews Contemporary Top-Grain Leather Sofa
Bring both style and comfort to your home with the Amazon Brand – Rivet Andrews Contemporary Top-Grain Leather Sofa. You will be in love with its 7 leather colors that look classy and absolutely gorgeous. It is available in Black Leather, Cognac Leather, Dark Brown Leather, Dark Grey, Light Grey, Wathet Blue, and Black. The 100% top-grain leather is sustainable and can easily be maintained. You can vacuum it or use s soft cloth to clean the surface of your sofa. It also comes with a 30-day free return policy and a 1-year warranty upon purchase.
Features
Dimensions: 82"W x 37"D x 36.2"H
Bring comfort and style into your living room with this practical sofa. Featuring a solid wood frame with 100% top-grain leather, it's made to withstand active households. Clean, tailored lines add a modern touch.
Soft top-grain leather; solid hardwood frame.
Two-over-two cushion design with comfortable foam cushioning and resilient elastic webbing
Simple leg assembly. Vacuum or wipe with a soft, dry cloth.
---
2) Rivet Brooke Contemporary Leather Sofa
If you are looking for a more striking and elegant leather sofa, the Amazon Brand – Rivet Brooke Contemporary Mid-Century Modern Tufted Leather Sofa Couch, 82″W, in Cognac is a striking set that will surely gain compliments from your guests. The design is a mix of modern finishes with a bit of mid-century inspiration. It is tufted just like classic sofas but it has metal legs that provide a modern touch. The leather upholstery adds luxury and classic comfort. The genuine leather might need more upkeep compared to faux leather, but it can be worth it if you take care of its sensitive upholstery.
Features
This striking sofa mixes mid-Century inspiration with touches of modern glam. Tufted tight back cushioning stays tidy over time while metal legs lend an airy, modern feel and leather upholstery adds classic comfort.
Overall Dimensions: 82" W x 35" D x 31" H | Seat height: 19.29" | Seat depth: 22.83" | Arm height: 31" | Leg height: 7.87"
Solid-wood frame, foam padding, brass-finished legs and genuine leather upholstery
Elegant contemporary-style design also pairs well with vintage, glam or mid-century-modern living room decor
Simple assembly in less than 15 minutes
---
3) Hot Sectional PU Leather L-shaped Sofa
The Hot Sectional Sofa Set PU Leather L-shaped Chaise Couch for Living Room Brown is a good alternative to genuine leather sofas as it does not need much upkeep compared to the genuine one. The upholstery is made of polyurethane leather which is an artificial leather that can easily be vacuumed and cleaned as needed. This modern choice provides comfort, affordability, and sustainable upkeep. Since it is a sectional sofa you can easily change its layout to suit your space needs. You can move and remove the ottoman as needed. The cushions are made of firm yet comfortable foam so you will not easily sink when you sit on them.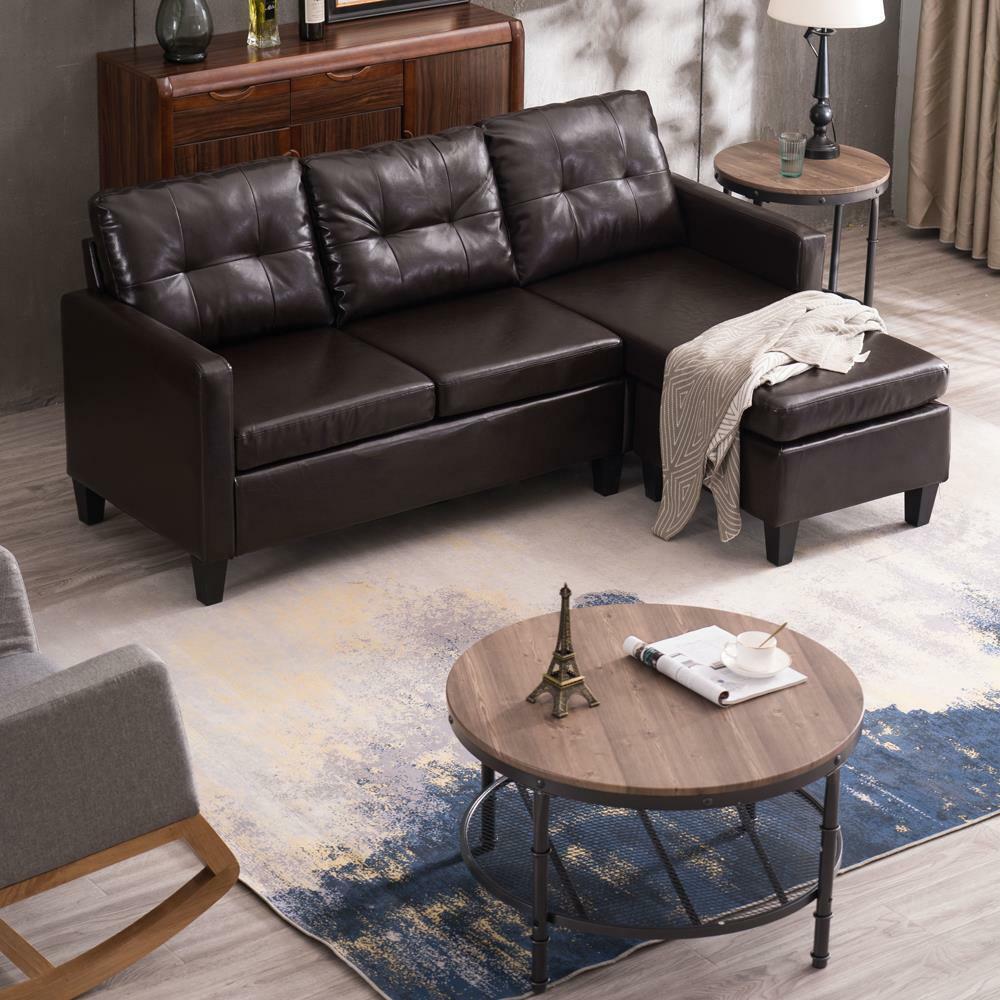 check latest price
as of September 24, 2023 2:16 pm
Are you looking for a comfortable sofa for your family?. This modern sofa can provide ample seating when guests are over, perfect for a small space and easy to lay down on for a nap.Small space reversible sectional sofa.Sectional sofa with reversible chaise lounge.
---
If you enjoyed this page and would like some more inspiration then why not take a look at these pages too!